Do you want to BE a Roman Gladiator? Legionary? Centurion? General? Senator? We've been living your dream for years! Be the Hero! Live the Dream.
SITE INDEX
This site is best viewed at 1024x768
Look for us on
Malice the Webseries, a Phil Cook Eagle Films Production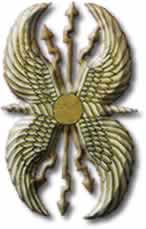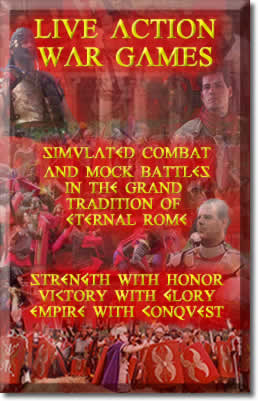 Imperial service guarantees citizenship! Would you like to know more?

2018 Schedule


LIKE us on Facebook!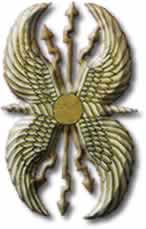 Roman might was made legendary by the valor of her glorious Legions. Sandaled feet marched to the clash of arms through a river of blood. The Legions carved out Rome's expanding dominion through battle and butchery, from Britain to Egypt. From a patchwork of conquests, the diverse nations and cultures of three continents were transformed into one world, one Empire!

Do you ever wish you could have made history, earning glory in Rome wars? Now's your chance to do it! The Legions still expand the Empire's dominions every weekend. We share a fascination with history and get to enjoy it as a fast-paced, action packed sport! The Washington, D.C. Metropolitan area boasts a wide variety of medieval combat organizations, including Dagorhir, the SCA, and Markland. Rome has enjoyed participation in local medievalist combat circuits since 1987, and we welcome you to join our fun. If this sounds like your kind of fun, Rome wants you!

Historic Romans understood how to conquer and reign. Using the principles of war that established the Roman Empire as supreme, we have duplicated their success. We are always recruiting, building new Legions to share our peerless glory. We offer numerous advantages to people who share our interest. We will train you to use competitive combat techniques. We will help you construct armor and weapons that will help ensure your superiority on the fields of battle. You'll enjoy the exhilaration of experiencing a safe medieval combat simulation with a winning team. In return, Rome expects your regular participation as a combatant at our events, and your devoted adherence to our high standards of honor, sportsmanship, and loyalty.

Rome is about fun and teamwork, using organization to achieve success. We've achieved national fame and glory in the Dagorhir Battle Game Association and in the Society for Creative Anachronism. Romans strive to be the best of friends, and the most challenging of opponents. We don't believe in having "enemies," being of the opinion that all "medievalists" share a common interest that should unite us. But friendly competition has its place on the battlefield, where glory is earned. Whether your interests lie in joining us as a citizen of Rome, fighting with us at Ragnarok or Pennsic, or even fighting against us in the medievalist societies we recommend, please contact us. We welcome all who share our interest in the glory and majesty that was (and is) Rome.

Ave Legions of Rome!
For more information on Rome, medieval combat or Roman reenactment societies, contact Dominus.
This site is intended to represent our Rome - a combat simulation society. This is not a historical Roman site, nor are we by definition a reenactment organization. What we are is more a celebration of what Rome was rather than an attempt to accurately recreate it. If your objective is research, click here for our superb list of Roman resource links. If you're conducting research on Roman sewage systems for your school paper, please understand that's an example of a fascinating topic we care nothing about. We're a fight club. But we thank you for your interest and enthusiasm in Rome, a topic so dear to us all.
The "ROME PAGE" is regularly maintained, offering updates to event schedules, new graphics and links to other Roman sites. Please keep checking back. After all, Rome wasn't built in a day!
---
We've been hit
Times since April 2000